Exclusive interview with Terreform1
Jan 13, 2015
Terreform1? What's that?
Terreform ONE [Open Network Ecology] is a non-profit design group that promotes smart design in cities. Through our creative projects and outreach efforts, we aim to illuminate the environmental possibilities of New York City and inspire solutions in areas like it around the world. We are a unique laboratory for scientists, artists, architects, students, and individuals of many backgrounds to explore and advance the larger framework of socio-ecological design. The group develops innovative solutions and technologies for local sustainability in energy, transportation, infrastructure, buildings, waste treatment, food, and water. These solutions are derived from the interface of design, science, engineering and synthetic biology. [...] Instead of a contrived copy of the earth elsewhere, as the definition of "terraform" commonly implies, we seek to reform the earth in place. Our intention is to repair the atmosphere of our world by fostering designs that reform the current pollution causing global trends.
My post about The future of Design event, where M.Joachim was one of the panelists, presented a few projects from Terreform1. But I invite you today to understand better their goals, methods and projects with an exclusive interview of Nurhan Gokturk, Director of Innovation.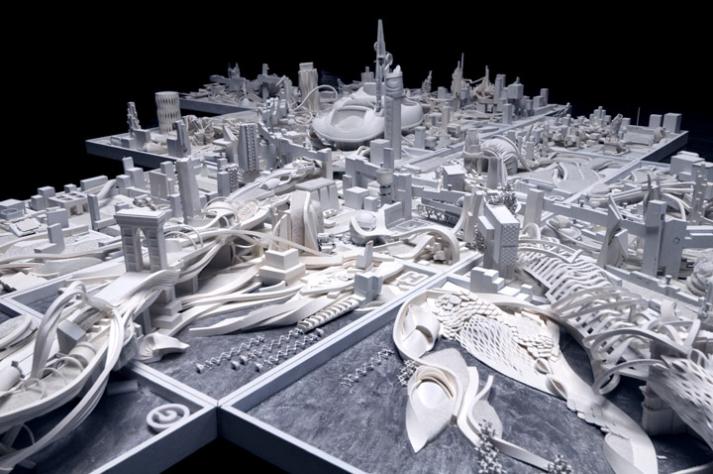 Why?
Terreform1 is a non profit organization. It has a social goal of studying life in the city, today and tomorrow, to make it sustainable. It is a slow process to rethink the way we live in the cities. Terreform1 is looking for solutions to our alarming environmental situation. This is a large umbrella for environment, waste, food energy, population, transportation, carbon pollution, environmental impact, trees, meat, ... One of its driving ideas is to make the city itself as the solution to the problem of urban environmental impact.
Who?
The team is very diverse: different people, different professions. Collaboration is necessary for better outcomes. For each project, a team is constituted, with a number of volunteers involved. The different skills set, thus a wide range of approaches, enable the organization to cope with complex problems. Also, a lot of its work involve data sets, which means needing skilled people to sort out what information is relevant and how to analyse it.
Where?
The office is located in the Brooklyn Navy Yard New Lab, which is a space shared with other organizations involved in innovation and socially responsible goals.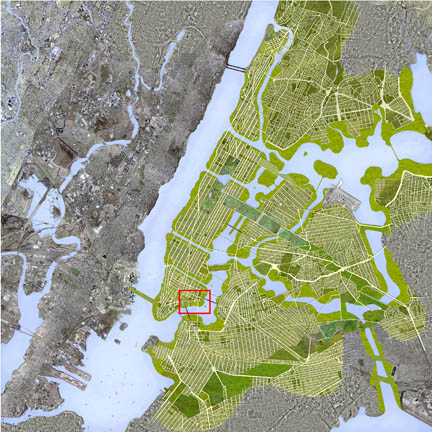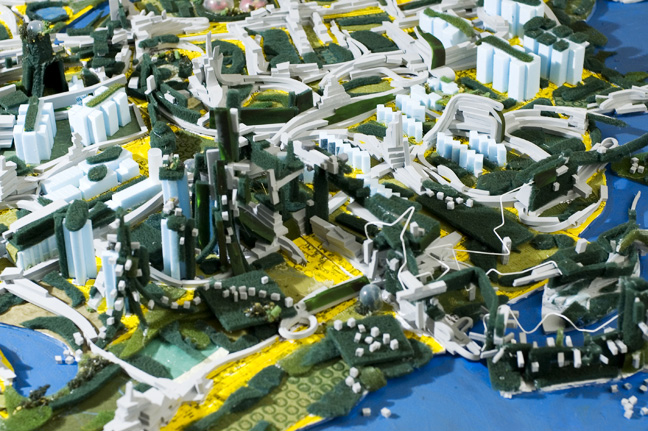 How?
Question. The question is always closely related to the mission of the organization: ecological goal but with social means. For instance, the project Billion Masterplan City explores the worldwide population growth.
Research. Where is the population growth? What is the population forecast? What are the tools needed to understand these information? Let's make a computational model of it. Sometimes the project stops here, the challenge was to offer a simple representation of complex information. Some projects go further: How do people live in the city? How can we make it better?
Solution.The team eventually encounters a critical turning point from research to reality, and has a decision to make. What are the solutions which are really going to be effective? Which solution is chosen to be in 1st position before many many ideas? Ways of living need cultural innovations like sharing food, repurposing waste, diversifying the use of cars, to cite only a few ones.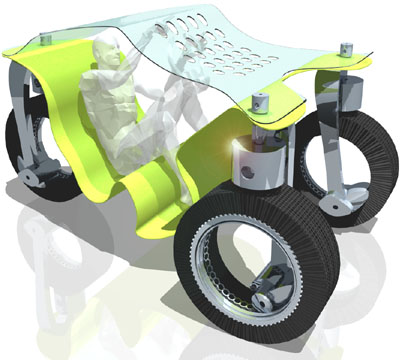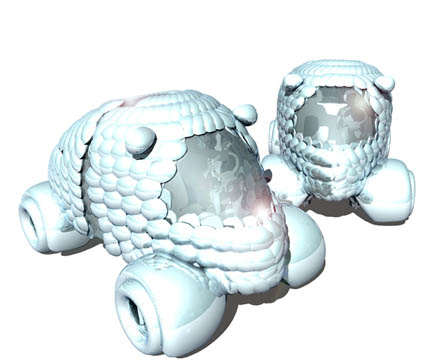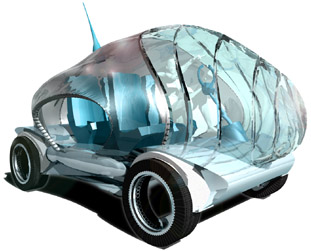 As you can see above, car design goes along with urban planning and architectural design in sustainability research by Terreform1.
Representation
The biggest problem is then to visualize the research. A huge amount of research is done before the project gets presented. Six months are usually needed before any presentation. The research must be embedded in the visualization of it. In this process, some of the work will be considered not valuable enough to be represented. For all the rest there is to show, information is compressed. It does not end up with charts, visualization is a project which sustains itself.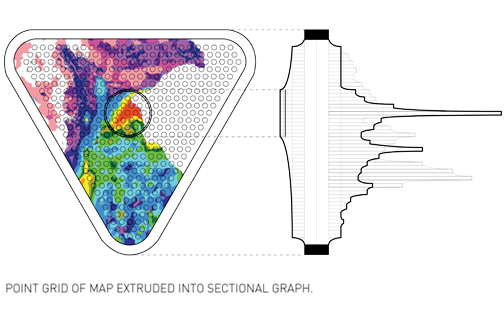 Biology
For Terreform1, biology is a fundamental working tool, namely for modelling urban patterns. Science is the closest form of nature that human can replicate. For instance, biology is an opportunity to make the building out of biological organism, of living components. Seemingly for cars, biology would enable to change a carbon producing to a carbon absorbing object.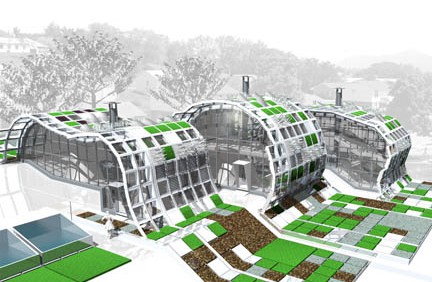 Reality
The actual construction of architectural or urban project is not the goal of Terreform1. Its mission is to build critical ideas, to anticipate, to create dialog, to offer opportunities of thinking forward to people who couldn't have them in reality (with its many restrictions). This is about speculation and imagination. If someone ask for them to take part into a building project, they would say yes of course but their mission is primarily to create thoughts.
I invite you to visit Terreform1 official website to discover their surprising projects and puzzling ideas for the city of tomorrow.